| | | | |
| --- | --- | --- | --- |
| General Questions | Why Choose Us? | Domain Questions | Storage & Traffic |
| Our Network | Email Facilities | FTP and FrontPage | Scripts & Programs |
| E-Commerce Features | Database Support | Control Panel | Support |

Control Panel (cPanel)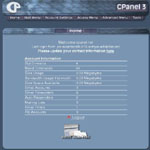 What can I do through the Bright-Byte Control Panel?
cPanel is packed with features to help you build, manage and promote your site. The panel has a simple point-and-click interface. You can use it to:
Mail
Manage Email Accounts (Add, Remove, Change Password)
WebMail for all Accounts
Auto Responders
Custom Mail Filtering
Forwarders
Mailing Lists (mailman)
Ability to Modify an MX Entry
Spam Filtering
Stats
Webalizer Web Stats
Webalizer Ftp Stats
Analog Stats
View Latest Visitors
View Bandwidth Usage
View Error Log
Download a raw logfile
Ftp
Manage Ftp Accounts (Add, Remove, Change Password)
Anonymous Ftp Control
Ability to change ftp login message
Ability to kill ftp sessions
Site Tools
Web Protect (htaccess editor)
Ability to Change Site and Frontpage password
Custom Error Pages
Redirects
Ability to Edit Mime Types
Ability to Edit Apache Handlers
Install Frontpage Extensions
Uninstall Frontpage Extensions
Search Engine Submit Tool
Web based File Manager
Subdomains
Ability to Add/Remove Subdomains
Subdomain Redirects
Stats for Subdomains
Advanced Tools
Manage GPG Keys
Cron Jobs
Pre-Installed Cgi Scripts
Add On Scripts:
Oscommerce
PHP-Nuke
and Invision Board
Interchange Cart
Agora Cart
XMB Bulletin Board
Java Chat
Html Chat
phpMyChat
Cgi Wrapper (for non-suexec installs)
Random HTML Generator
Advanced Guestbook
Counter Generator
Java Clock Generator
Java Countdown Generator
Secure FormMail clone
CgiEmail
Entropy Search
Entropy Banner
Network Tools
Dns Lookup
Traceroute
Database Management
Manage Mysql Databases (Add, Remove, Change Password, Add Access Hosts) with phpMyAdmin



Can I see a demo of the Control Panel?
Sure! Click on the link provided to demo the Control Panel we use below.
Some features will not function due to security reasons, for these same reasons we use the demo provided by Cpanel.net therefore if the demo is not functioning at anytime then this will be due to Cpanel.net either updating, reconfiguring or carrying out maintenance at that time.

CPanel Demo (Username: xdemo, Password: xdemo)

You can also view a static demo here .